For over 30 years, Joel Koetje has built more than just elegant custom homes and work spaces across the Island of Kauai  – he has built long standing relationships with his clients.  Offering dependability, expertise and the building skills of a visionary, Joel is a highly reputable and recommended General Contractor on Kauai.
More About Joel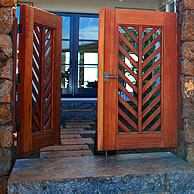 New Custom Homes
Home Renovations
Condo Remodels
Kitchen/Bath Remodels
Swimming Pools
Office/Retail/Commercial
Restaurant Improvements
Government Work
View Projects
"When we decided to build our home on Kauai, we searched everywhere for an honest, capable and reliable builder.  We found just the man in Joel Koetje.  Joel was always responsive and attentive to our concerns and needs.  He personally oversaw the construction and was involved in every aspect.  His crew was talented and reliable.  Our home was completed in a timely manner, unlike the homes built adjacent to ours, which took nearly a year more!"
"I met Joel in 2006 when I was preparing to build my home.  I knew we would have a great working relationship and I am proud to say that today we are still friends…not many folks can say that about their home builder.  Joel is a "value added" type of builder and will routinely suggest things that truly add to the homes' value and beauty."
Kauai Construction Projects
Put Joel's Expertise to Work on Your Project
Joel's years of experience and visionary expertise can make all the difference on your construction project.